Wild moors, intense juniper, and silent mists.
Hepple Spirits Company was founded to share the breath-taking character of our home in the north of England with drinkers around the world, all through their cocktail glasses, by bringing back the classics, but with elegant and intense flavours for a modern twist.

Welcome to Hepple.

At our estate in the remote Northumbrian hills we distil using pioneering technology to transport you into the untamed beauty of our home. Explore our local wild botanicals, in our Hepple Gin, Hepple Douglas Fir Vodka, and Hepple Sloe & Hawthorn Gin.

Happy Heppleing.

Our Top Picks
HEPPLE GIN

The ultimate modern gin, an intense yet elegant reinvention of a classic gin, elevated through our use of botanicals picked fresh from our home in Northumberland and next-generation distilling techniques.

SEE OUR GIN

HEPPLE DOUGLAS FIR VODKA

Zesty, refreshing and tropical. Transport yourself to our ancient pine forests through our hand-harvested Douglas fir needles and our unique distilling system.

SEE OUR VODKA

HEPPLE SLOE & HAWTHORN GIN

Juicy, peppery and distinctly drier than the usual – as beloved by bartenders in a summer cocktail as by Sloe Gin purists to sip on a cold winter's day.

SEE OUR SLOE GIN

Column

Pair text with an image to focus on your chosen product, collection, or blog post. Add details on availability, style, or even provide a review.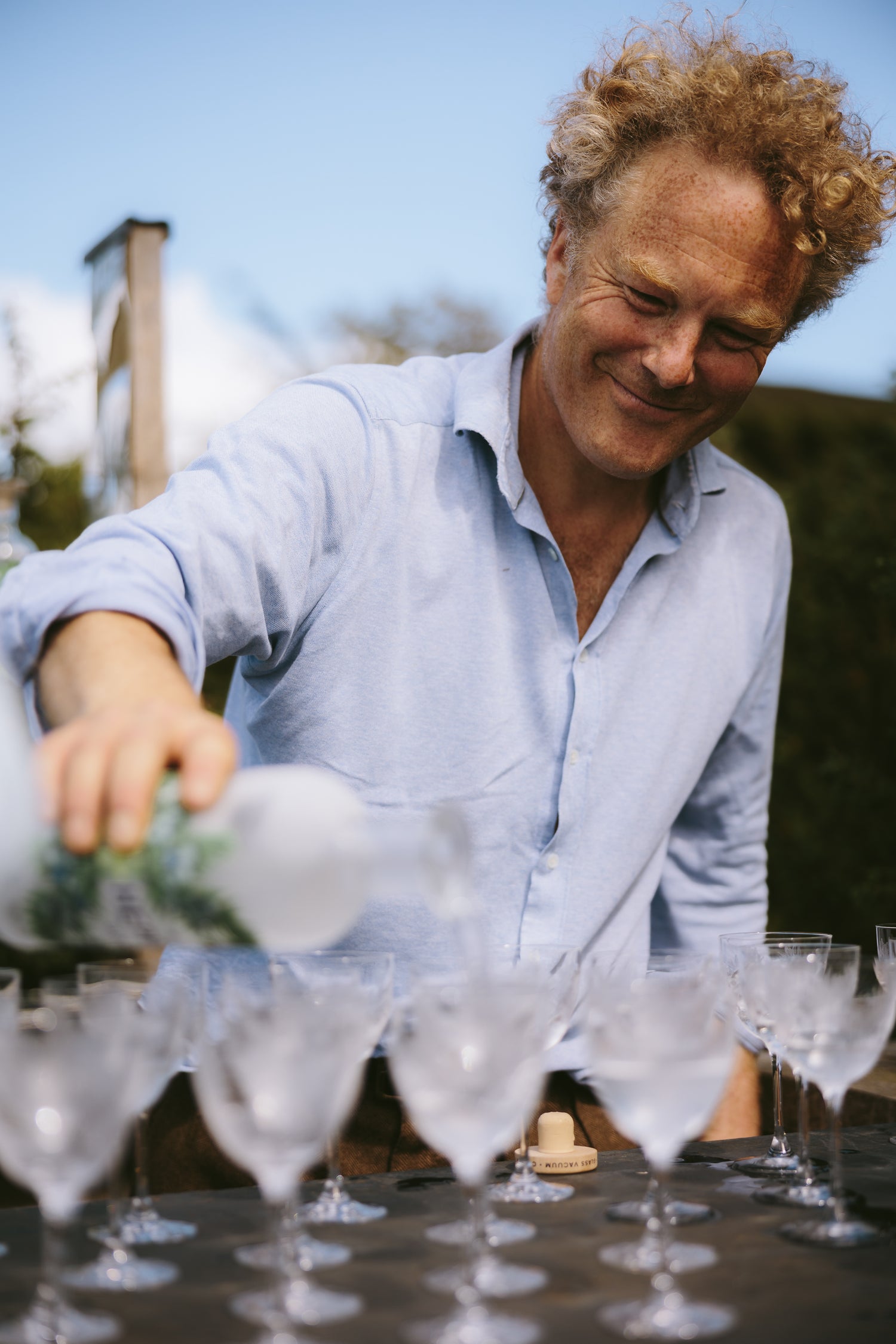 Welcome to Hepple.
Located within the eastern edge of Northumberland National Park, our estate and distillery are where England's cleanest waters, most ancient juniper, and wildest winds meet. Hepple's rugged beauty reaches up along its hills through vast moors of heather and grasslands, down alongside old stone walls to babbling brooks and towering pine forests, ending at an old, small stone farmhouse that we've turned into our distillery.
Wild ponies, Highland cows, and famed black-haired pigs roam the estate, churning up hardened soil so that wild seeds can take hold. Introduced as part of our Wilding Programme – a natural regeneration aiming to bring back and conserve the wild plants that were once so distinctive to this place – we are committed to preserving the unique character of our home, both within the landscape and our liquids, through our environmental and sustainability goals.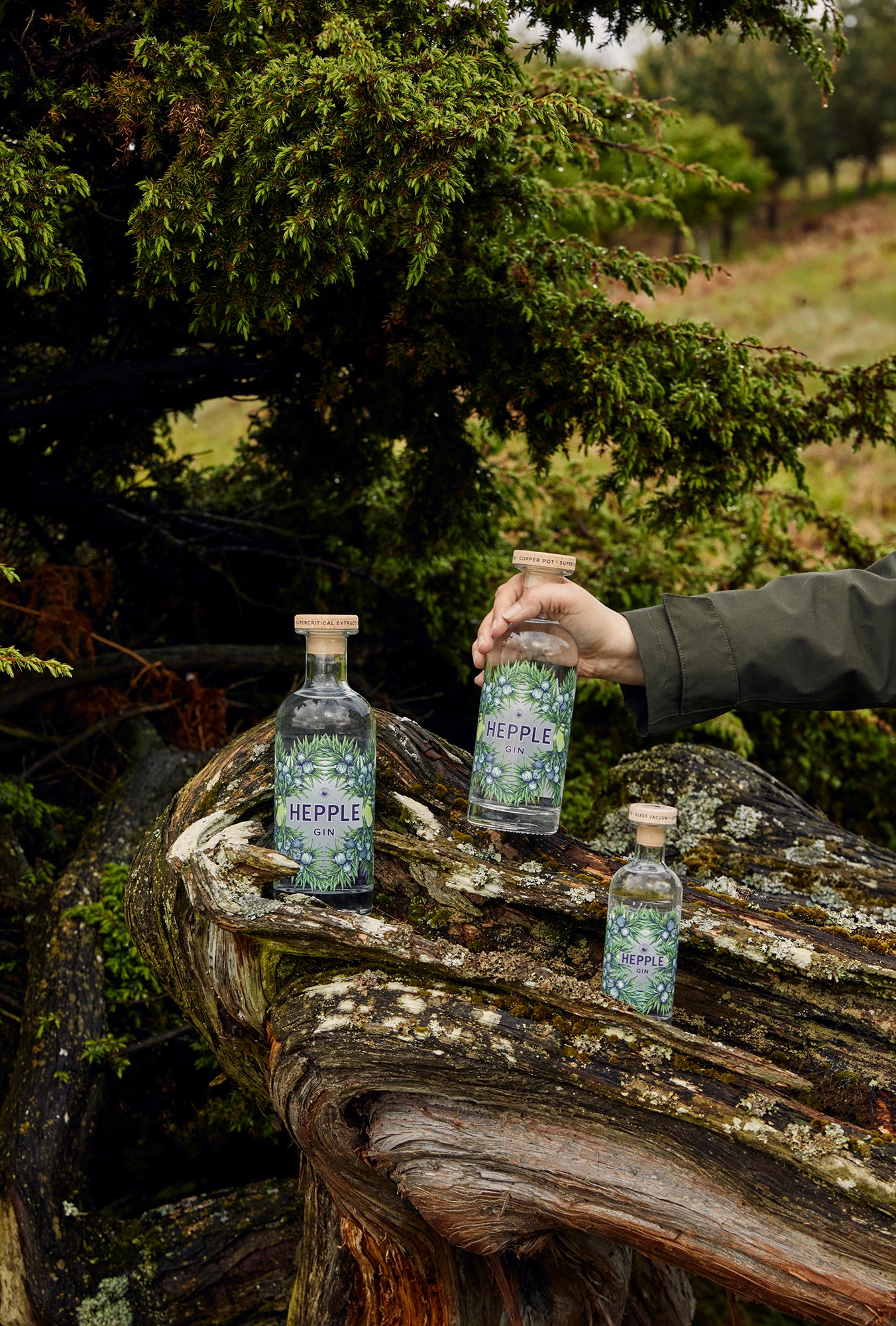 Botanicals
From imposing Hawthorn and Douglas fir trees, to expanses of bog myrtle, lovage and, blackcurrants, at Hepple we're fortunate to have many of our botanicals for our spirits at hand, and thanks to the wild nature of our home, our botanicals have a depth of flavour and aromas like no others.
Our prized ancient juniper groves, deeply rooted against the gusting winds, produce the bright, green juniper berries we harvest every autumn for our gins. To ensure that we return the land back to its past glory, the Hepple Juniper Trust was set up to help replenish the UK's juniper trees. Support by the National Park and Natural England, we've planted over 600 juniper trees, growing towards our long-term target of having 2000 trees planted, so that we'll have plenty of juniper for generations to come.
Harvested in their prime, our botanicals bring a taste of wild luxury to our spirits, imbued with the intense and complex flavours and aromas of Hepple. Through traditional distillation processes, many of these delicate characteristics would typically be cooked in the heat of a copper still, or be too complex to make it into a distilled liquid. However, our unique triple distillation method was created to ensure that those flavours are preserved, allowing us to transport drinkers to our home at the time of harvest.
Science
Our unique Triple Distillation Method was pioneered to preserve the character of our home, through our botanicals, so that the flavours at the time of their harvest are what you're experiencing in every bottle of Hepple. To achieve this, it takes five times longer to create a bottle of Hepple spirit than traditional methods.
Copper Pot

We begin our distillation method here, in a process traditionally used to create a 'one-shot' London Dry-style gin, bringing out deeper flavours and capturing a rich, creamy smoothness in our spirits. Most distilleries stop at this point, but this is just the beginning for us.

Vacuum Still

Next we take a selection of our botanicals, such as our Douglas fir needles and our green juniper berries, and distil them in a glass vacuum, lowering the boiling point to 40°C, so that we're able to preserve delicate, fresh flavours that would normally be destroyed.

Supercritical Extraction

Exclusively used by the perfume industry, until us, we're able to put botanicals under as much atmospheric pressure as travelling a third of the way to the bottom of the ocean. Extracting an intense depth of flavour for it to hold up against the punchiest of flavours.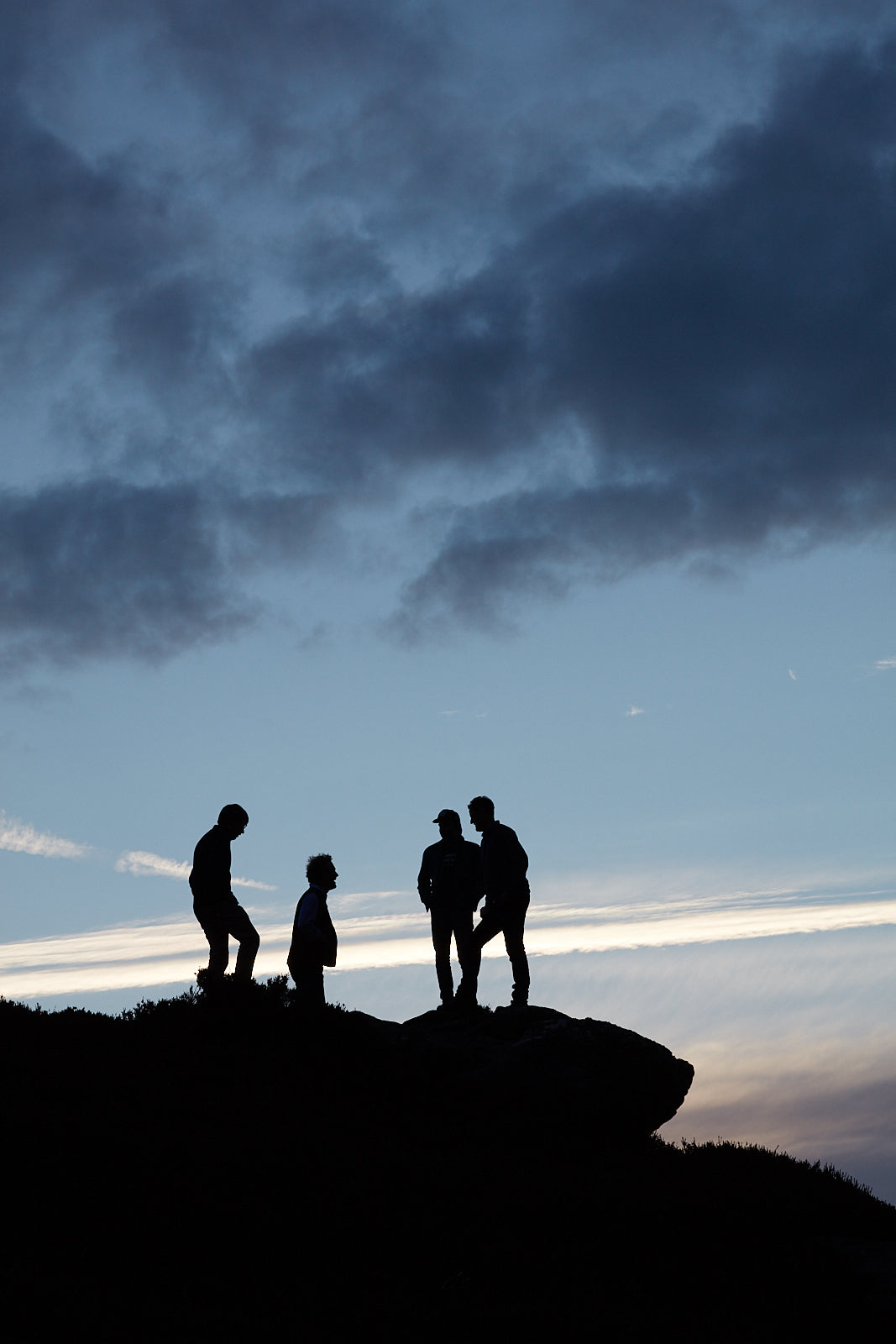 People behind the process
Bringing together foraging chef, Valentine Warner, legendary bartender, Nick Strangeway, ex-Sipsmith distiller, Chris Garden, and farmer and estate-owner, Walter Riddell, Hepple Spirits began at a time when the gin boom was shifting away from the essentials of the spirit – juniper – towards subtle, gimmicky (and sometimes downright odd) flavours. Their goal was to create spirits that elevate the category to the next level, aimed at modern drinkers, by bringing the unique and wild charisma of Hepple to drinkers around the world with the help of new technology.

With a focus on flavour, an estate brimming with wild botanicals, and a distillery filled with technology able to extract fresh and complex flavours like no other, Hepple Spirits Company was born. Designed to take classic serves to the next level, all while showcasing the untamed wonder of our home, Hepple Spirits are showcased at top bars around the globe and amongst friends in tastemakers' spirits cabinets.
A Wild Taste Of Luxury, Uniquely Made.