Regular price
Sale price
£55.00
Unit price
per
Offer
Sold out
Give the gift of Hepple. Share your favourite Hepple spirit, along with two of our iconic juniper-sprig Nick & Nora cocktail glasses, and a set of our cocktail cards, to keep the cocktails flowing in style. You have a choice of a 50cl bottle of our Hepple Gin, Hepple Douglas Fir Vodka or our Hepple Sloe & Hawthorn Gin, your gift will arrive in our juniper box, ready for a great unveiling.
 Our glasses take the classic 1930s design (originally created to avoid spilling your drink, unlike the wide-rimmed martini glasses) and accentuating them with our iconic juniper sprigs from our Hepple Gin bottle, designed by the textile greats from Glasgow, Timorous Beasties. Made of lead-free crystal, and dishwasher safe, these glasses are the perfect addition to your picnic on the moors, martini, gimlet, or negroni in hand.
Glassware: 7oz. | 128g | 15.1cm x 7.4cl

Bottle: 500ML 
Our Home

With over 4000 acres of remote land to explore, Hepple hosts rich biodiversity that lends to our botanicals offering some of the best flavours out there.

We have the cleanest waters in England to nourish our plants, with babbling brooks feeding into tranquil ponds surrounded by lovage and blackcurrants. Gusting winds force our bog myrtle and Douglas firs to root deep into the earth to take hold, while wild horses, cows, pigs and stags churn up the ground so that our juniper trees can take root. Over a fifth of juniper found in Northumberland National Park resides in Hepple, which we exclusively harvest.

As our distillery is on our estate, the botanicals we harvest are fresh and picked at their prime, ensuring that the flavours and aromas of Hepple fill every bottle we produce.
The Hepple Juniper Trust

To ensure that we return the land back to its past glory, the Hepple Juniper Trust was set up to help replenish the UK's juniper trees.
Support by the National Park and Natural England, we've planted over 60 juniper trees, growing towards our long-term target of having 2000 trees planted, so that we'll have plenty of juniper (and gin!) for generations to come.

 

Every year participants of the Trust plant their juniper saplings before naming and geotagging them. The newly planted trees stand alongside some of our ancient juniper groves. Gender for the juniper isn't revealed until the trees are 15 years old, which is when we find out how many females we have to start producing berries.
Shipping & Delivery

Free delivery for all mainland UK orders over £38, otherwise there is a £5 delivery fee at checkout. Unfortunately we are unable to deliver outside the UK.

All orders placed before noon will be delivered between 1-2 working days. Weekend orders will arrive from Tuesday.

Deliveries to our friends in the Highlands and islands may take a bit longer and are sent via Royal Mail. You will receive a confirmation of your order to your email (don't forget to check your junk/spam folders!).

During busier times, such as the Christmas period, there may be a delay in getting your order out, due to postal times.

REFUNDS
We're happy to refund bottles that are unopened and are in resaleable condition (ie/ undamaged packaging) within 30 days of purchase. Please note that postage will not be refunded.
View full details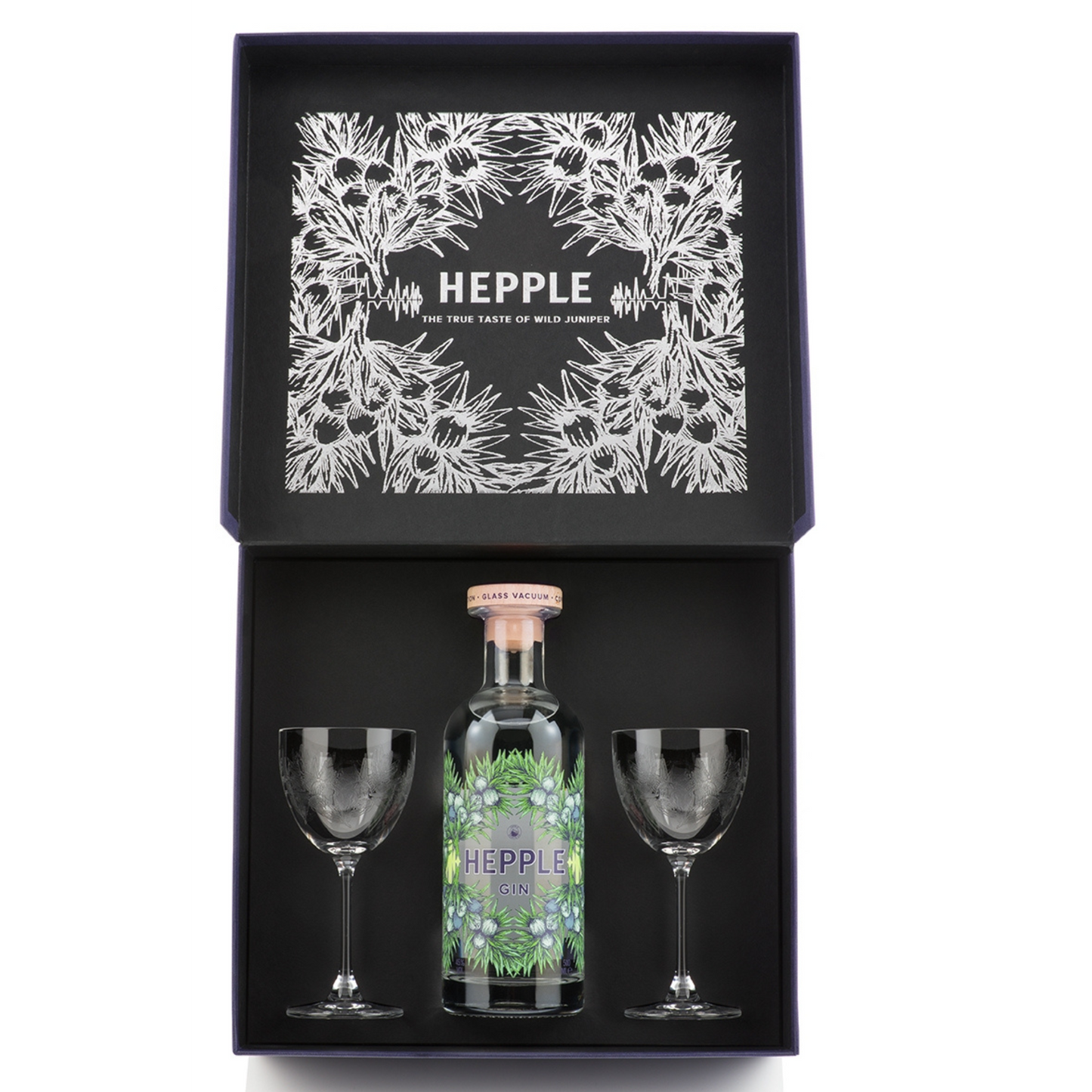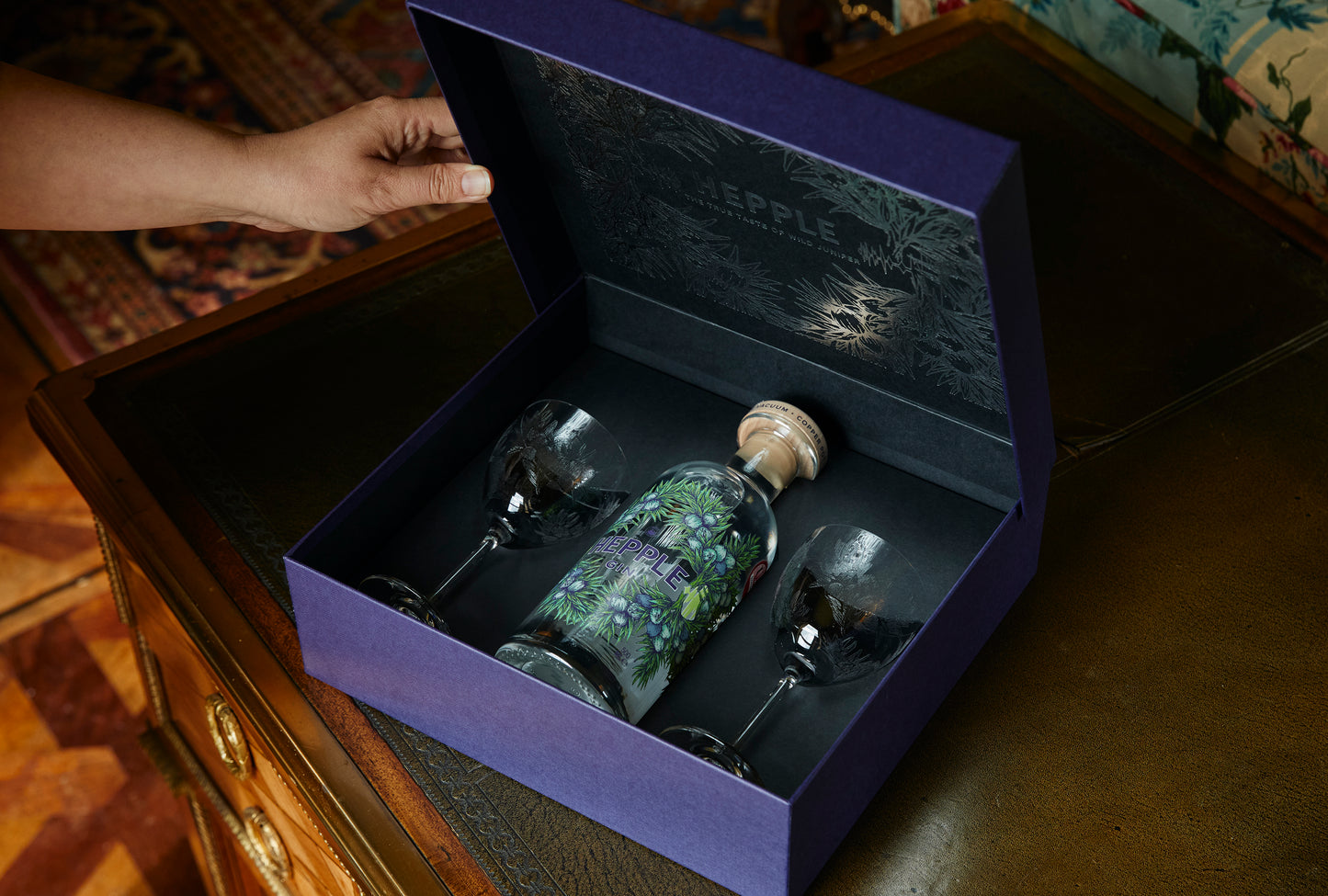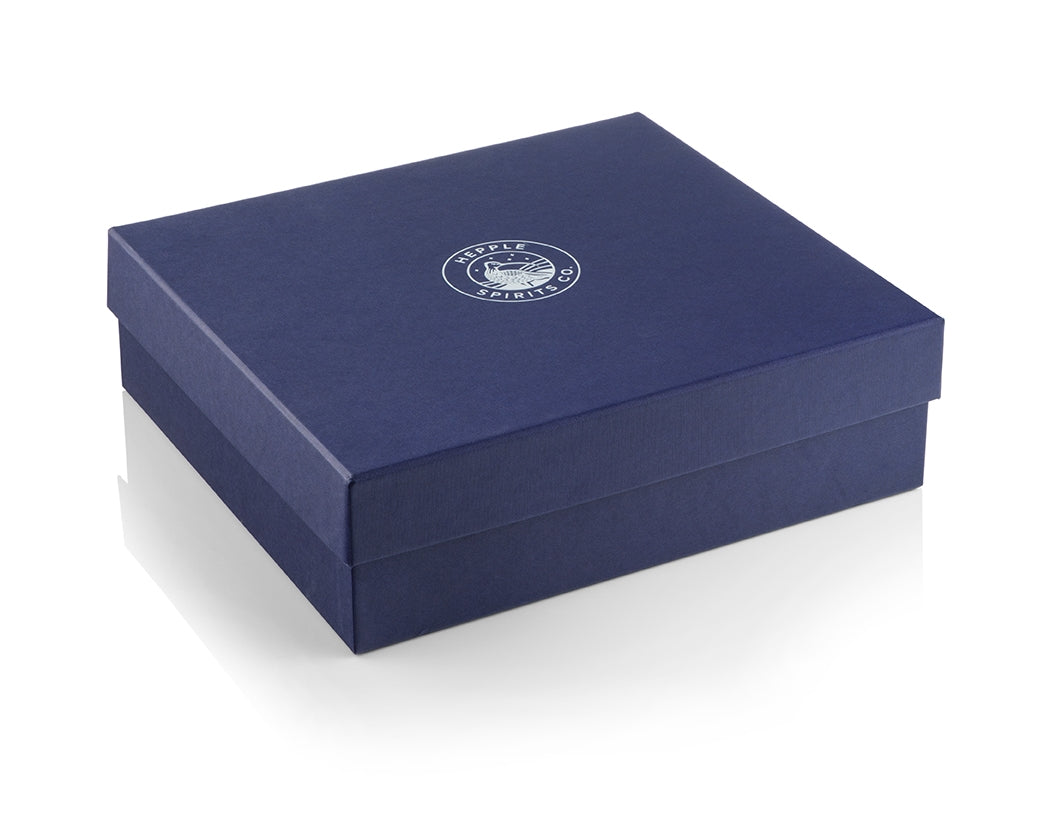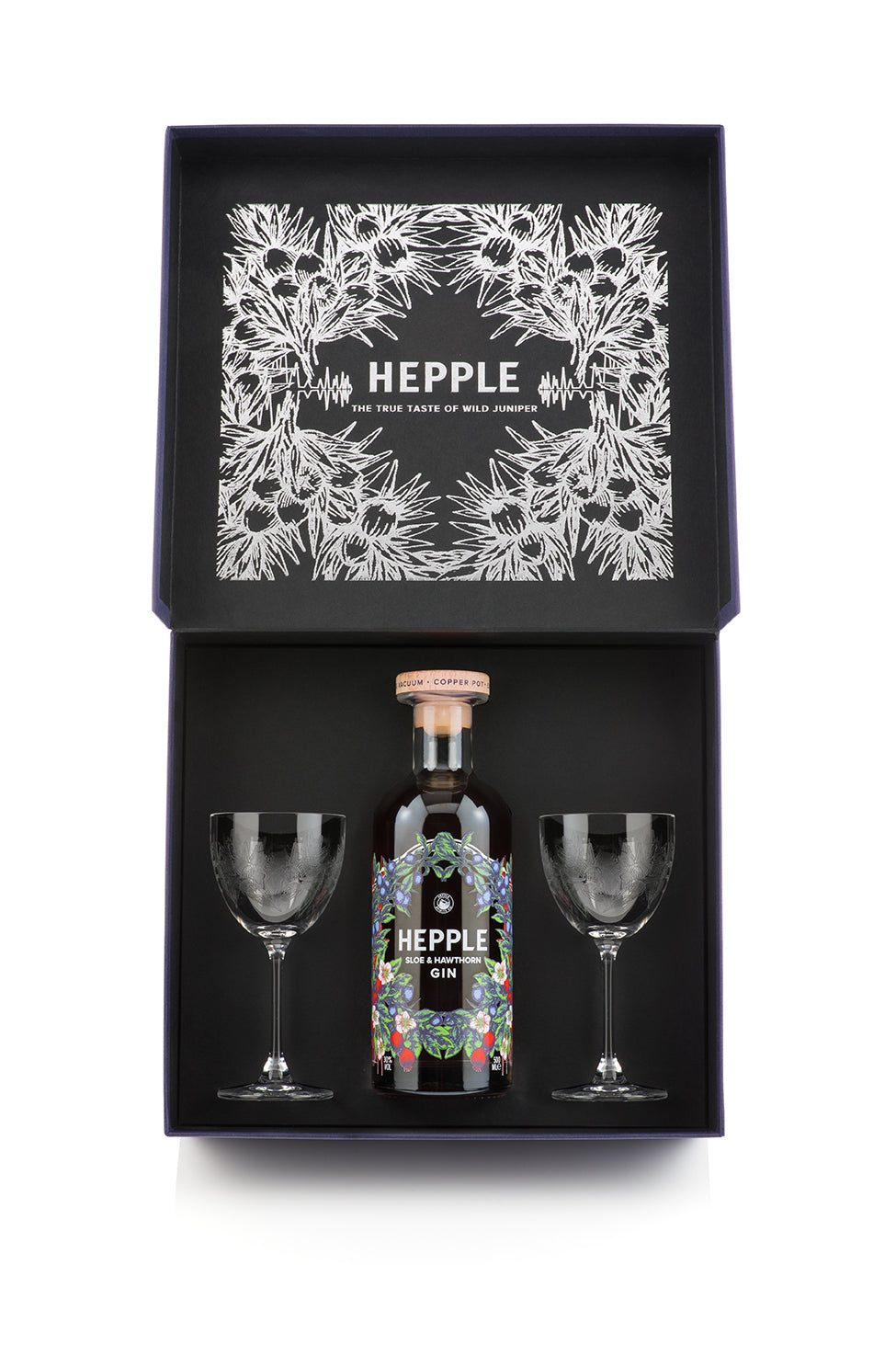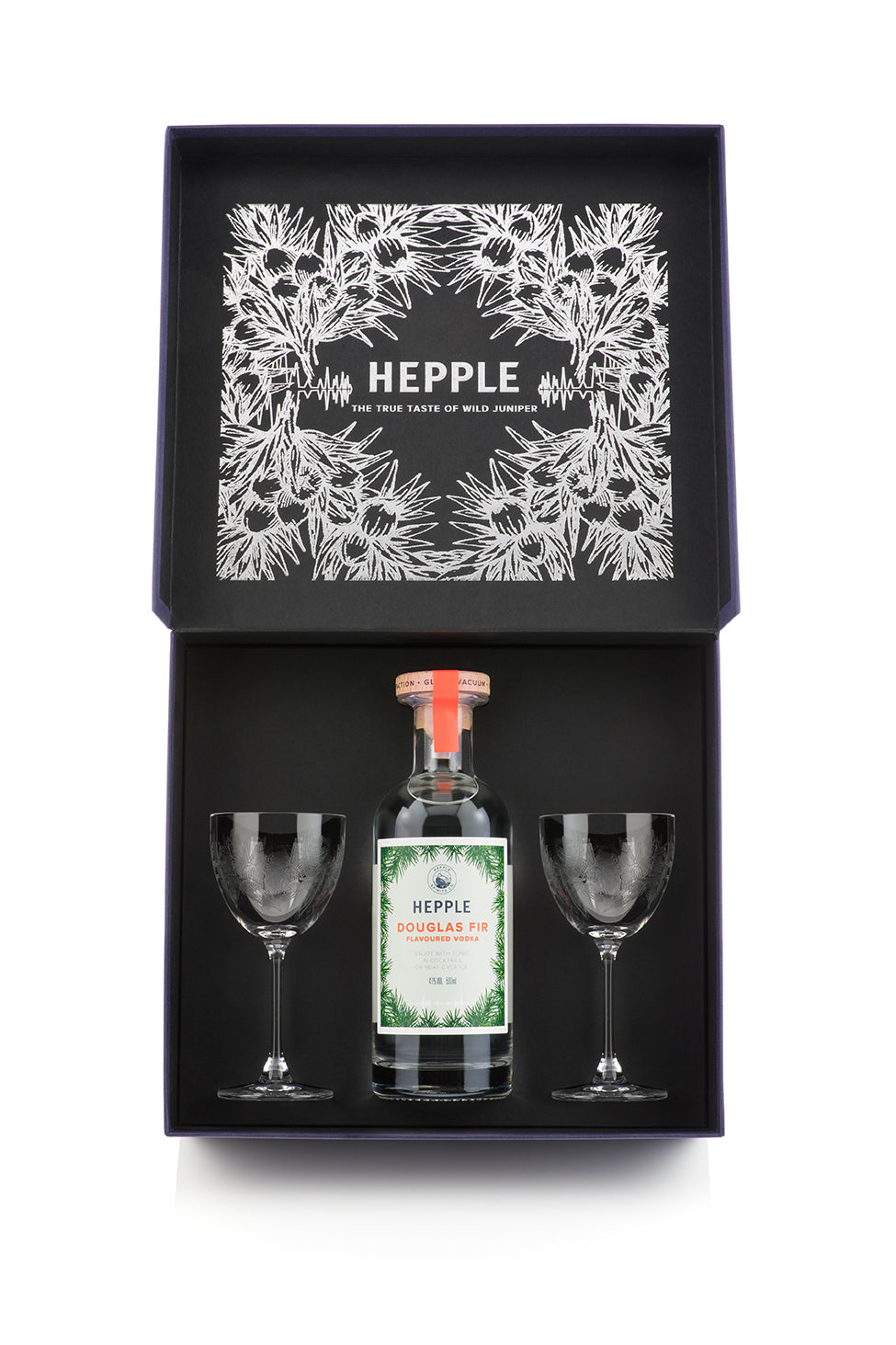 Free Delivery Over £38

More Hepple, less fuss, straight to your door.

Free Returns

We understand if the moors are too wild for you.
Your Gift Box
Contains your choice of 50cl Hepple spirit, choosing from our Gin, Douglas Fir Vodka or Sloe & Hawthorn Gin, two juniper-sprig Nick & Nora cocktail glasses, and a set of cocktail cards, all set in a stylish Hepple box.
How to Serve
The ultimate luxury: delicious cocktails, in eye-catching stemware, wherever you go. Pack into your backpack with some prebatched cocktails for a memorable hike amongst the heather, pull out of the kitchen fridge ready to fill with your favourite Hepple dry martinis, negronis, gimlets, and espresso martinis, or lay out on your cocktail trolley for a pre-dinner tipple at your dinner party. Black tie/hiking gear optional.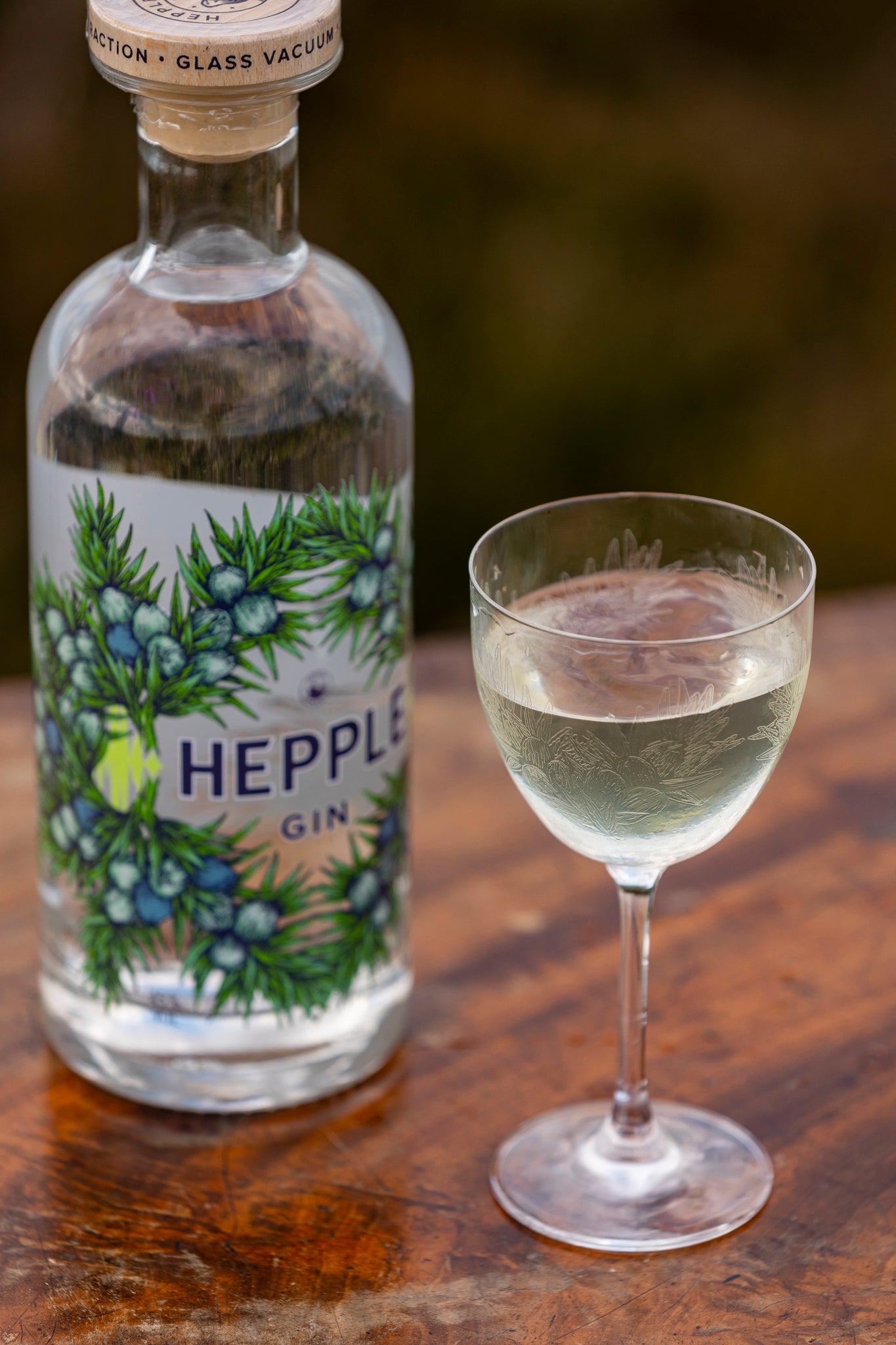 Process
Named after fictional detectives Nick and Nora Charles, the Nick and Nora cocktail glass was designed as a 'Little Martini' glass in the 1930s. Our glasses are inspired by the original design. Thin walled, they are treated to resist chipping, are made from lead-free crystal, and are dishwasher safe.

We added an extra Hepple touch to the glasses by etching our Hepple Gin's juniper sprig motif onto them. Designed by Glasgow's Timorous Beasties, their goal was "to blend much of the wild nature surrounding the distillery with the science that is at the heart of their method," according to cofounder Alistair McAuley. "We also wanted to make something that exploits their unique point of difference in a very busy market. I feel the design reflects their unique and colourful story."
Regular price

Sale price

£38.00

Unit price

per

Regular price

Sale price

£35.00

Unit price

per

Regular price

Sale price

£32.00

Unit price

per