Regular price
Sale price
£12.50
Unit price
per
Offer
Sold out
A fresh breeze from the wild Hepple woods, our Douglas Fir Sherbet is a hit of Hepple for your cocktail glass. Sophisticated and elegant, our Sherbet elevates your serves with ease.
We harvest big, fresh, tropical flavours from our Douglas fir trees overlooking the Scottish border to bring you flavours that transports you (and your cocktail) to our misty ancient pine forests…with a Piña Colada in hand.
A tangy rimmed-garnish for your G&Ts, Douglas Fir Vodka and tonics, and a range of cocktails from sours to your cosmopolitans, this is an easy way to bring the refreshing flavours of the wild pine forests to your drinks.
TANGY | FRESH | PINE
65 g
Our Home

With over 4000 acres of remote land to explore, Hepple hosts rich biodiversity that lends to our botanicals offering some of the best flavours out there.

We have the cleanest waters in England to nourish our plants, with babbling brooks feeding into tranquil ponds surrounded by lovage and blackcurrants. Gusting winds force our bog myrtle and Douglas firs to root deep into the earth to take hold, while wild horses, cows, pigs and stags churn up the ground so that our juniper trees can take root. Over a fifth of juniper found in Northumberland National Park resides in Hepple, which we exclusively harvest.

As our distillery is on our estate, the botanicals we harvest are fresh and picked at their prime, ensuring that the flavours and aromas of Hepple fill every bottle we produce.
Our Wilding Programme

We harvest botanicals for our spirits directly from our estate, located within Northumberland National Park, and are the only distillery allowed to do so. Our priority is to keep sustainability and the local environment in focus with the estate's Wilding Programme, ensuring we give back more than we take every year.

The Programme sees the restoration of natural processes that include the return of wild ponies and ancient breed cattle back to the moors for the first time in over 150 years. So far we've reintroduced over 85 animals back to our estate, where they roam the grasslands and moors, churning up hardened soil in order for wild birch, oak and juniper seeds to take hold against the tumultuous climate. Alongside our Wilding Programme our Juniper Trust highlights planting juniper trees across land once destroyed by grazing sheep on our estate, building an environment truly in harmony with our spirits and ensuring that our unique flavours can be enjoyed for generations to come.
Shipping & Delivery

Free delivery for all mainland UK orders over £34, otherwise there is a £5 delivery fee at checkout. Unfortunately we are unable to deliver outside the UK.

All orders placed before noon will be delivered between 1-2 working days. Weekend orders will arrive from Tuesday.

Deliveries to our friends in the Highlands and islands may take a bit longer and are sent via Royal Mail. You will receive a confirmation of your order to your email (don't forget to check your junk/spam folders!).

During busier times, such as the Christmas period, there may be a delay in getting your order out, due to postal times.

REFUNDS
We're happy to refund bottles that are unopened and are in resaleable condition (ie/ undamaged packaging) within 30 days of purchase. Please note that postage will not be refunded.
View full details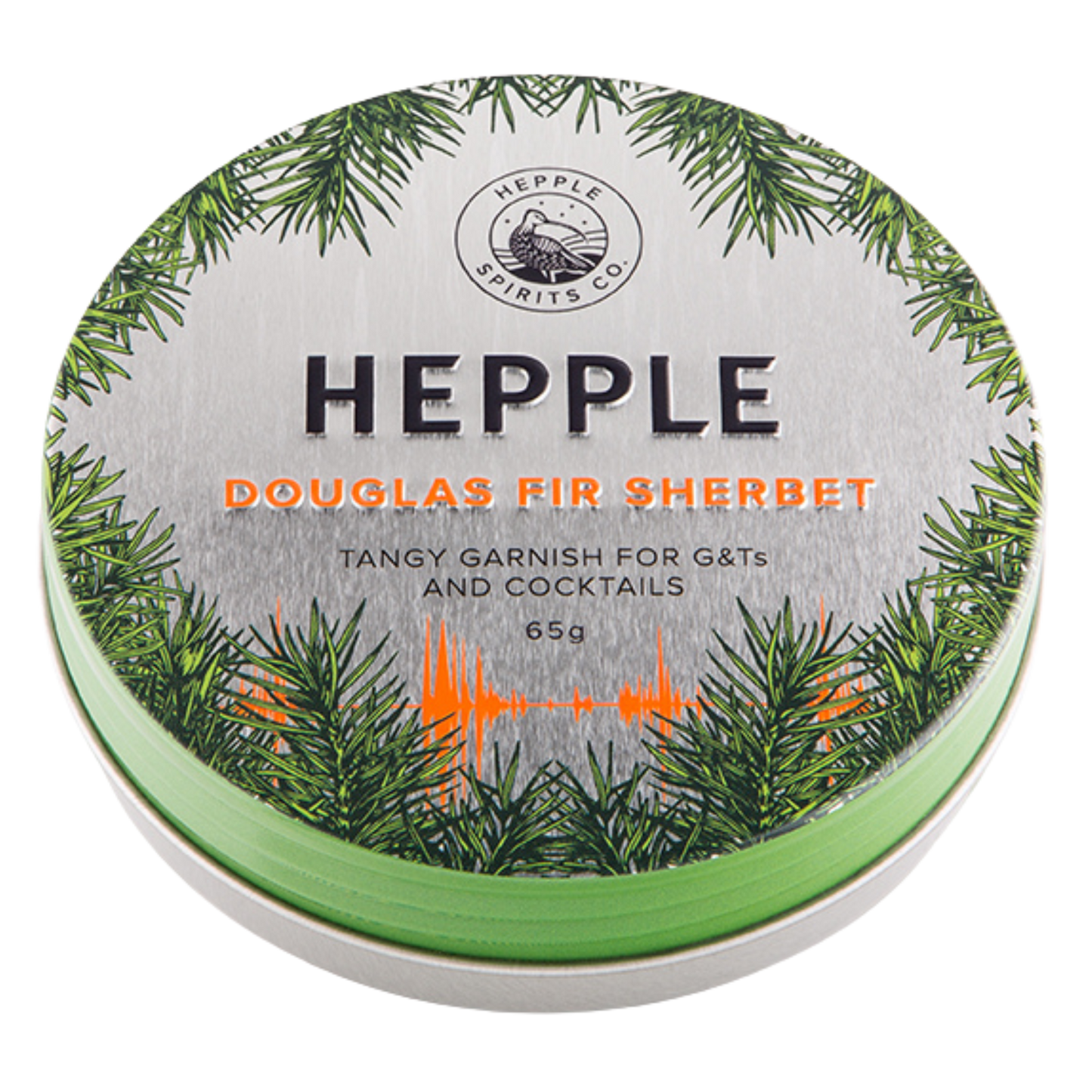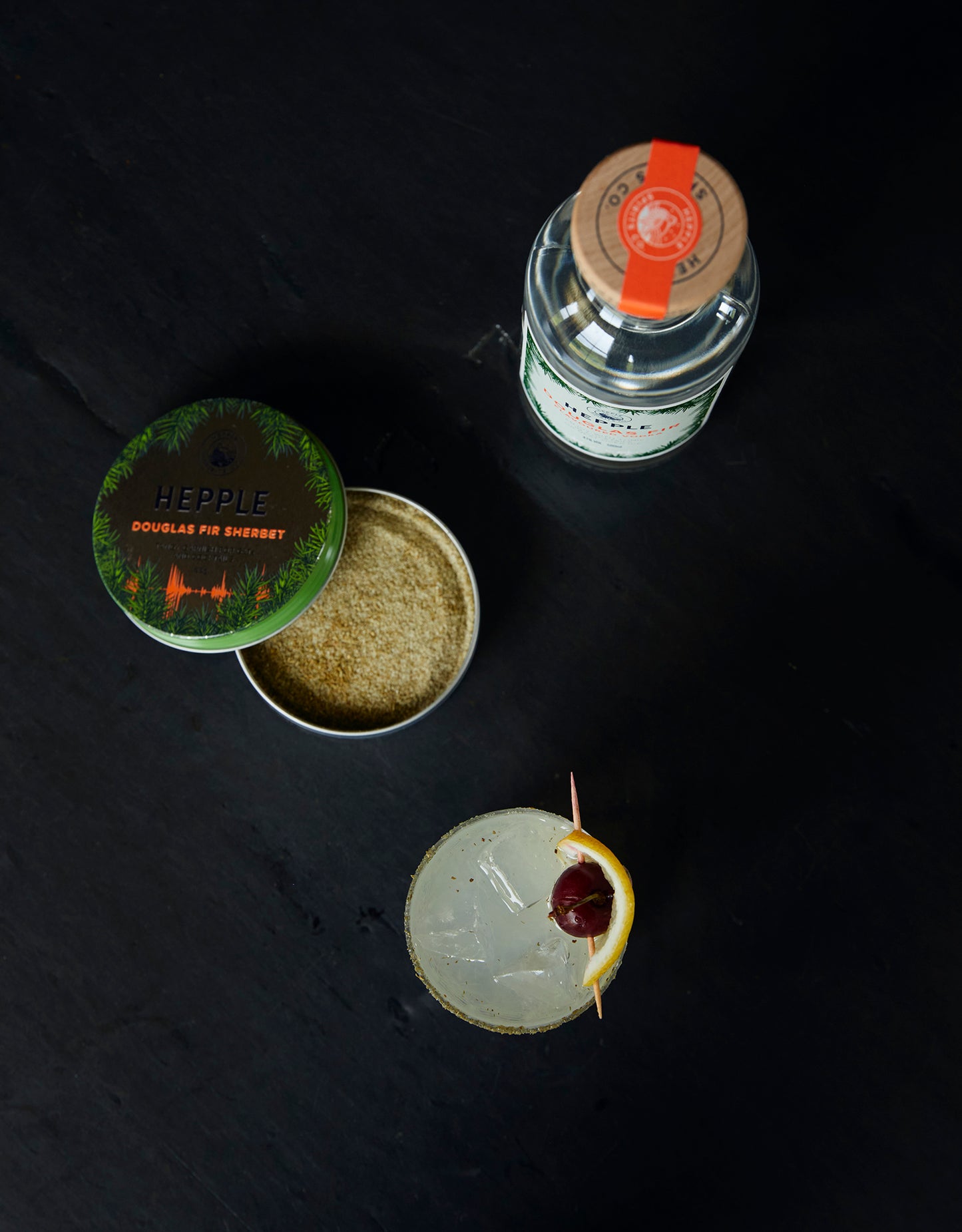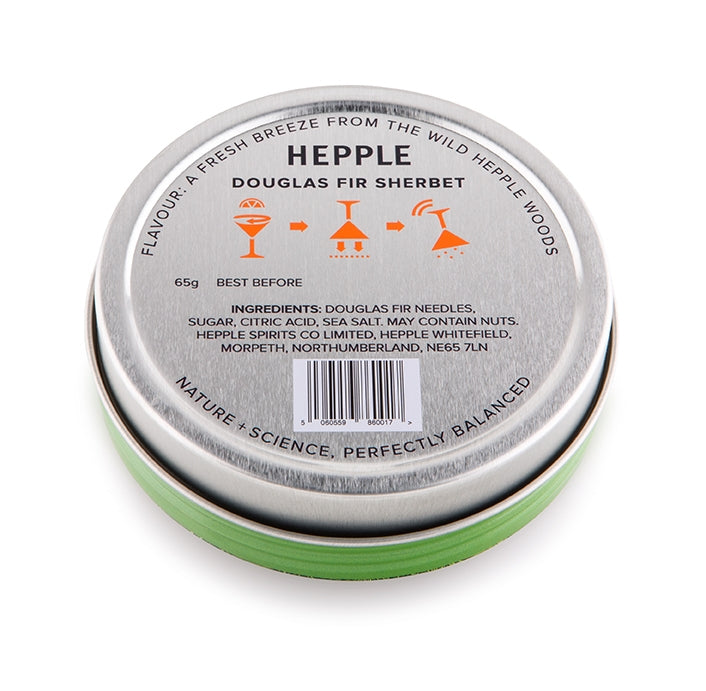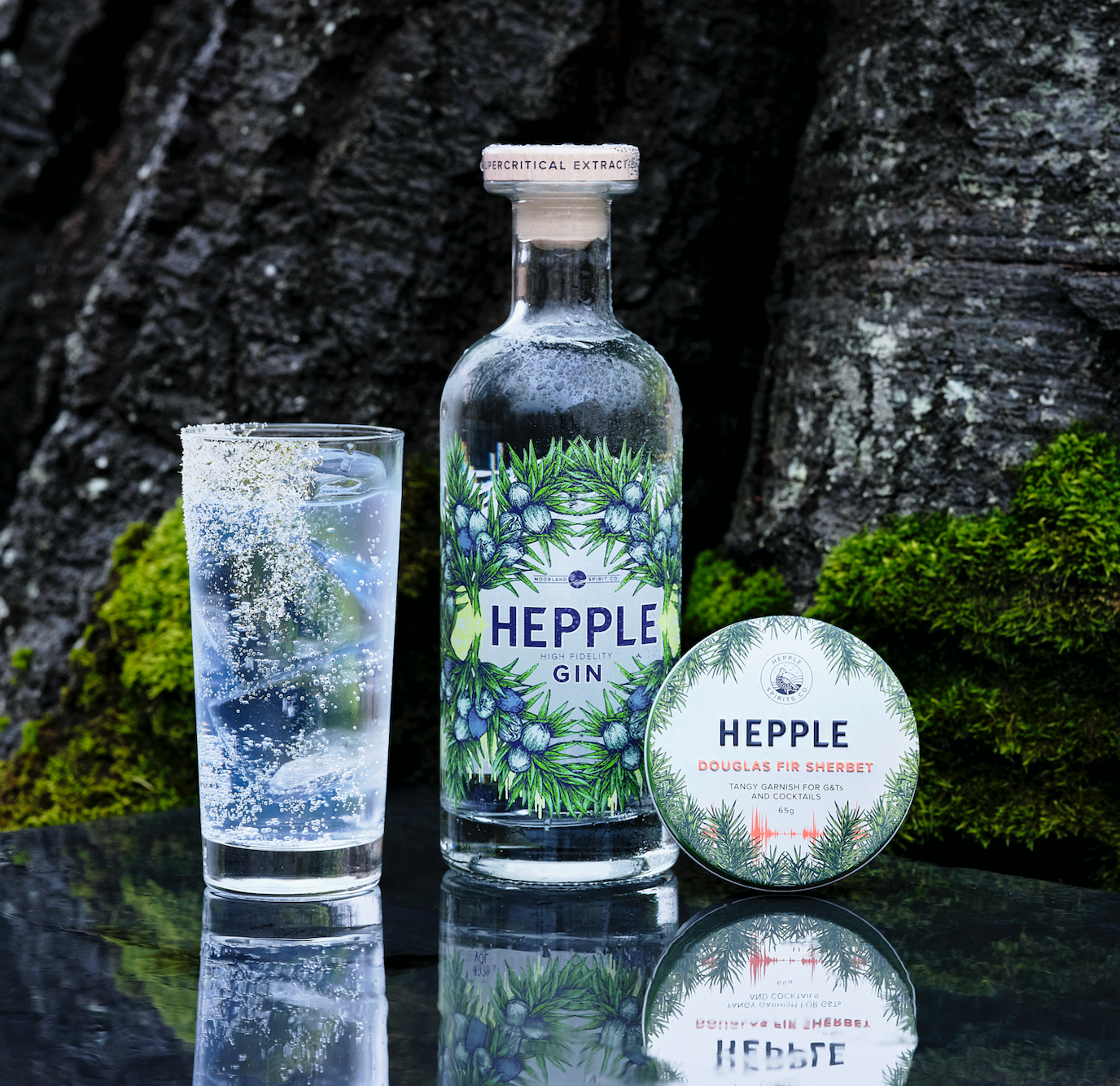 Free Delivery Over £34

More Hepple, less fuss, straight to your door.

Free Returns

We understand if the moors are too wild for you.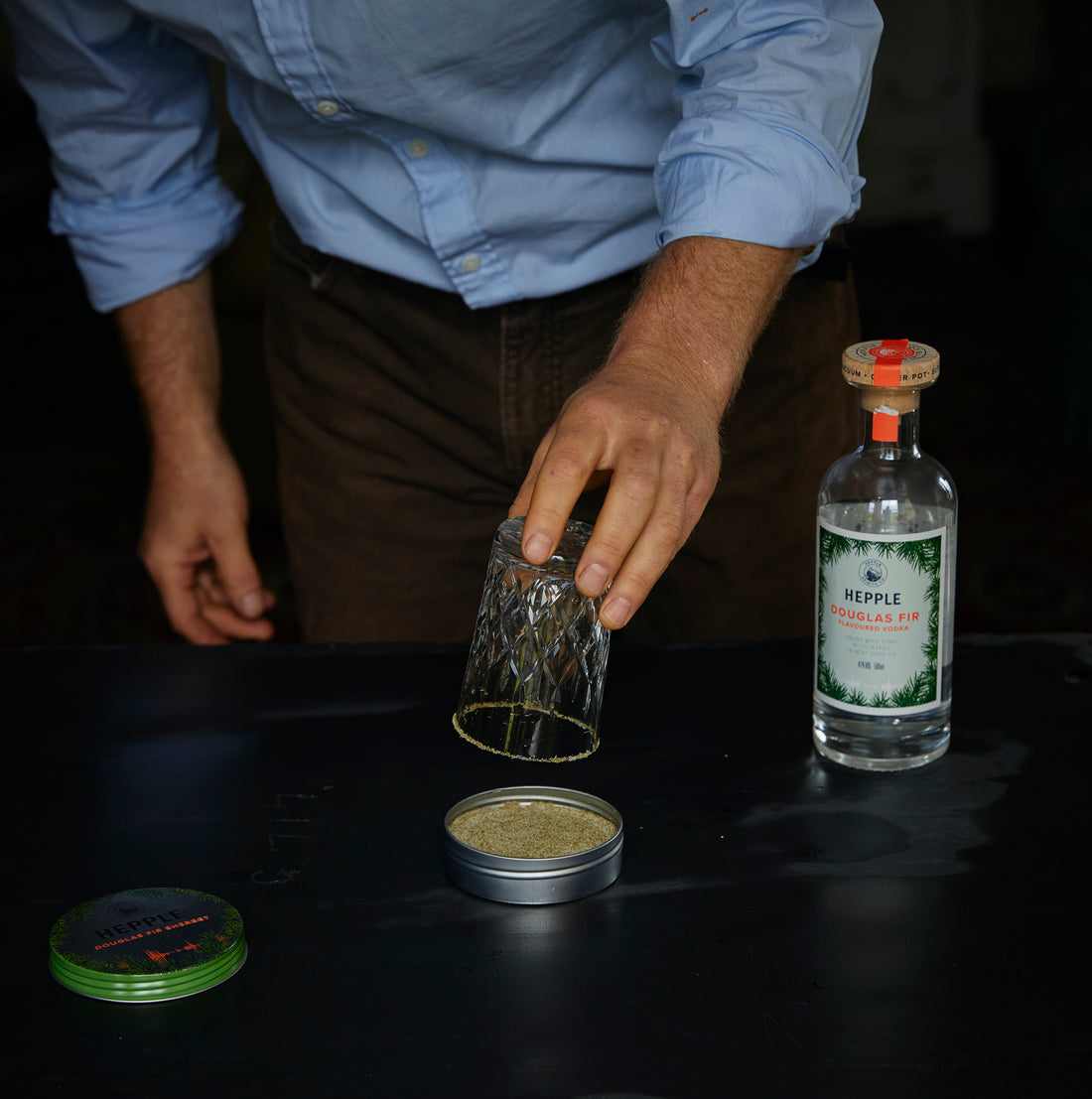 Botanicals
Our Douglas fir needles shine in our Douglas Fir Sherbet, showing just how complex botanicals really can be. Our cofounder, Walter, climbs up our mighty trees each year in early summer to harvest branches of Douglas fir while the needles are young, soft, and full of tropical flavours like fresh pineapple, ripe melon and zesty pink grapefruit. The needles are then carefully stripped off of the branches and dried to intensify their tropical and pine characteristics.
How to Serve
Elevate any cocktail with a hit of tangy pine, by rimming your cocktail glass with our Douglas Fir Sherbet. Take a small slice of citrus, such as lemon, and gently brush it along the rim of your glass, being careful not to get too much juice on the glass so it runs down. Next, press the rim into the Douglas Fir Sherbet to add as much or as little of the garnish onto it. Your glass is garnished and ready to fill with your favourite cocktail.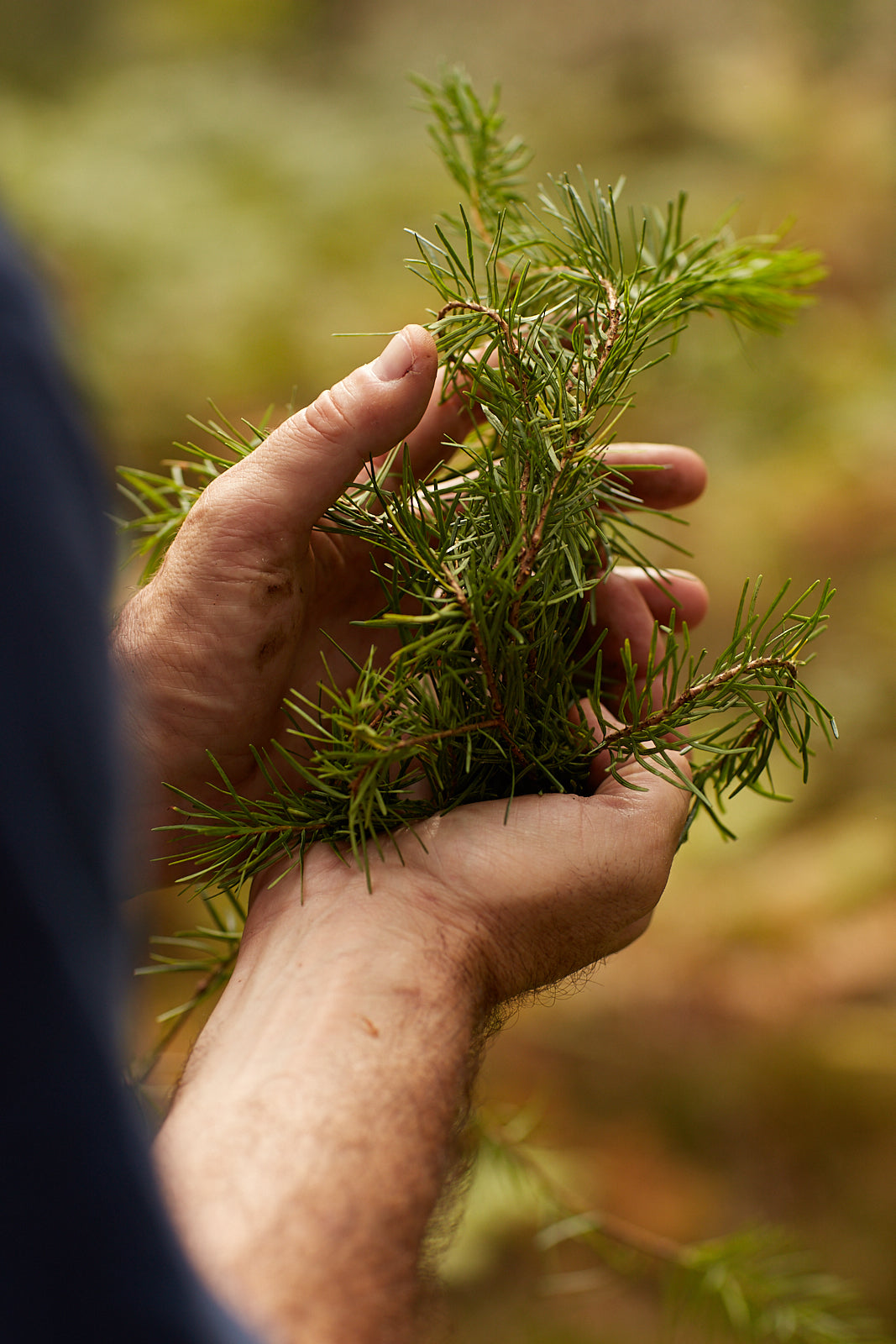 Process
We harvest our Douglas fir needles in early summer, while they're in their prime, before stripping them off their branches and drying them, capturing notes of refreshing pine, zesty pink grapefruit, fresh pineapple and ripe melon.

We then grind them and blend them with a mix of salt and sugar to bring a bit of tang to your cocktail garnish.
Regular price

Sale price

£32.00

Unit price

per

Regular price

Sale price

£40.00

Unit price

per

Regular price

Sale price

£32.00

Unit price

per